High School Robotics #RoboCampCT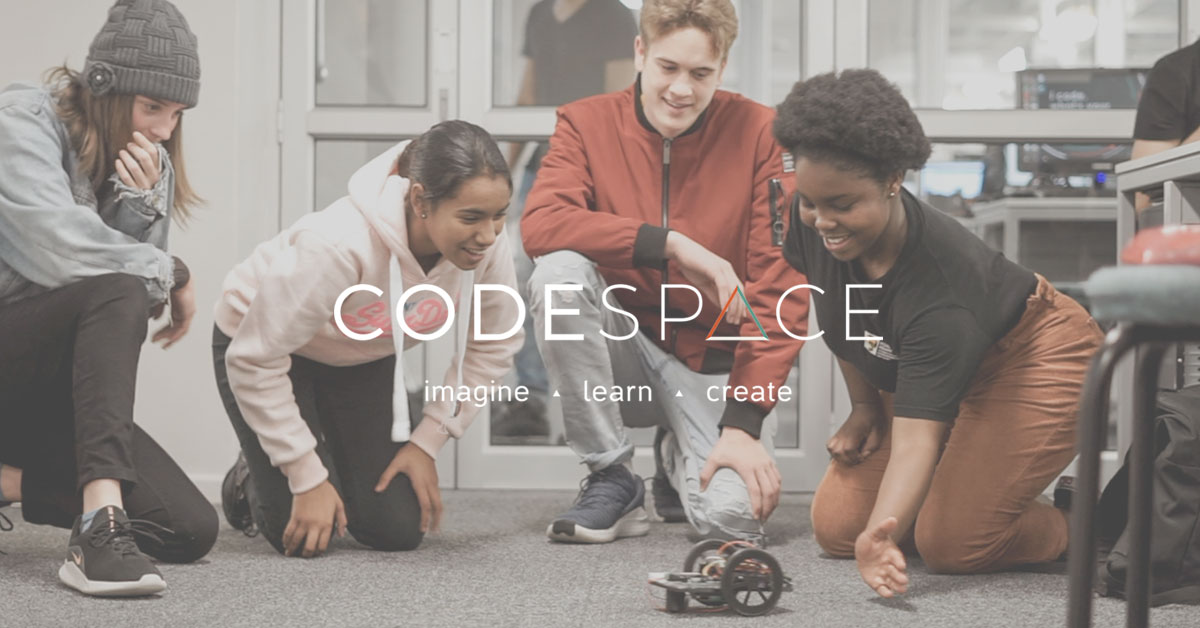 High School Coding & Robotics Camp
CodeSpace has just wrapped up our High School Coding & Robotics Camp, hosted in partnership with the UCT school of IT. The six-day #RoboCampCT was a resounding success: our aim was to equip high school students with a strong foundation to further their technology skills and prepare them for more advanced coding courses including web development and robotics, and we were excited to see the impressive level of learning and engagement that took place.
The University of Cape Town campus provided an ideal location to run our courses, and our incredible team of facilitators were joined by engaging professionals from influential industries around South Africa. Their insights provided a look into the opportunities that await students entering the world of tech.
Our learners come from around the Western Cape – and beyond – and some were sponsored by education initiatives like Generation Schools, who have a like-minded, future-focused approach to educating students. The goal of Generation Schools is to "create an opportunity to grow independent and critical thinkers," much like what we're hoping to achieve at CodeSpace through the aspects of our work that don't just teach coding skills, but are about learning how to learn.
Students were also sponsored by the Allan Gray Orbis Foundation, an organisation investing in the education and development of individuals with entrepreneurial potential in Southern Africa.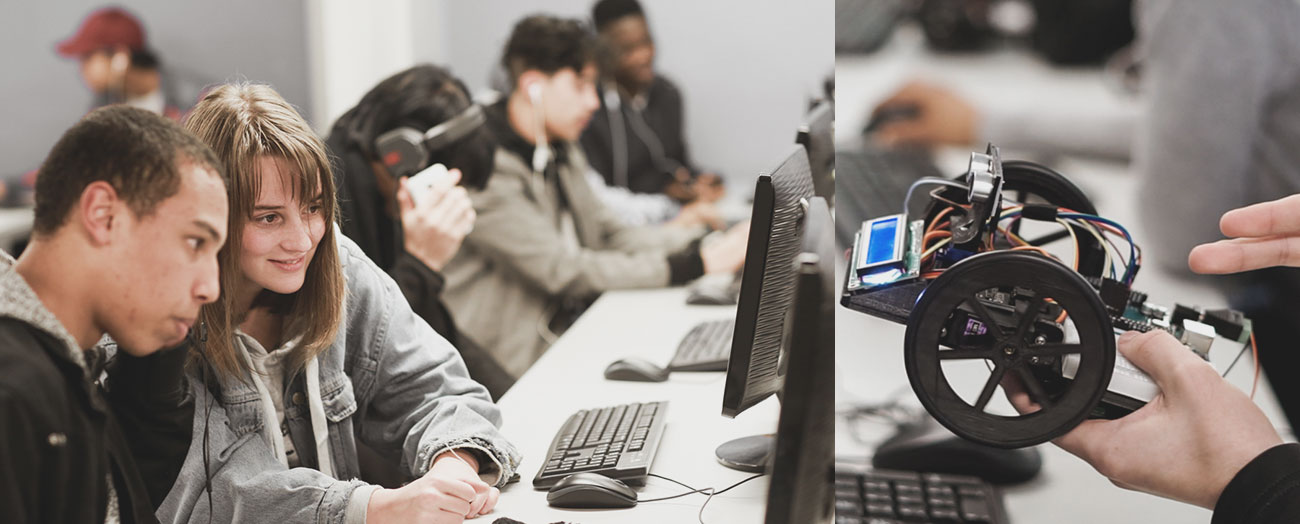 Why are we so passionate about equipping adults and high schoolers alike with coding skills?
In the same way that most professionals today need to be able to read, write and count, in the near future professionals will be expected to be equipped to code: to be literate in the language that'll allow them to harness the power of computers to enhance every job they're doing. 
Jobs that don't even exist yet will integrate new fields – data science, artificial reality, virtual reality, and nanotechnology – but just about all existing jobs will be transformed by integrating tech. Basically, the need for coding is about to be universal. 
High schoolers can learn to code in any programming language. Once they understand programming principles and how to do the basics, they can transfer that to the specific use of programming robotics. 
The goal of our curriculum is to bridge the gap between high school and tertiary tech education, and will equip high school learners with the tools they need to explore the most in-demand careers in the 21 century. 
We use robotics as the mode in which all this is taught because it's an especially engaging medium because it's tactile and visual: a line of code that you write can make an actual 3D object move. This means that for young learners, lessons are made visible and memorable as their robots 'come to life' and move around.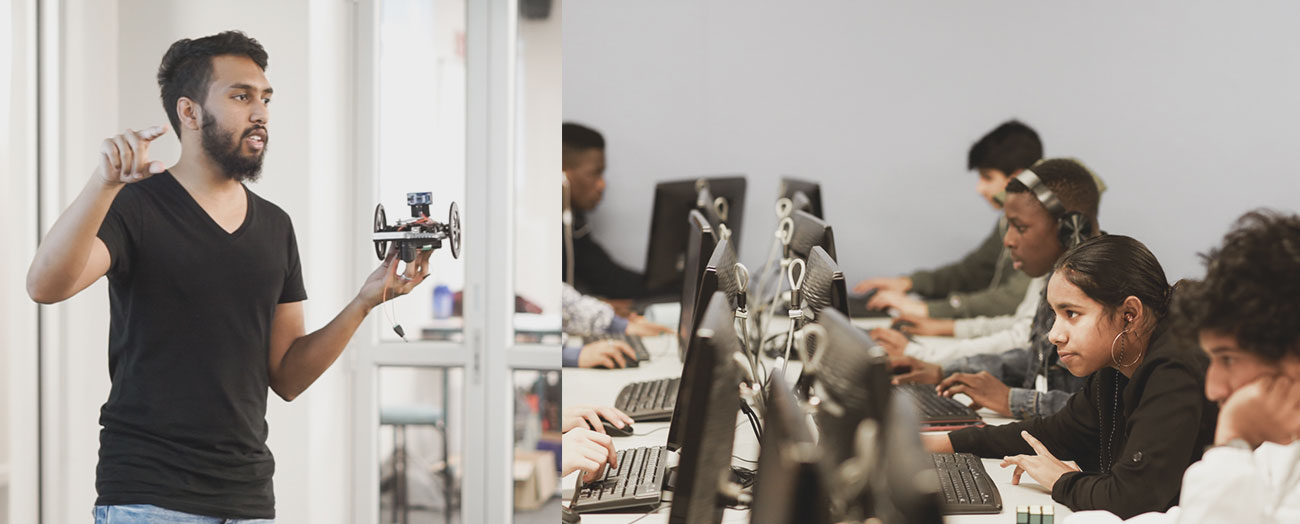 At RoboCamp, learners had the opportunity to:
Explore technologies like Sonic Pi

Learn the basics of programming 

Apply that basic code to robotics 

Make music, robots that move, and more

Meet tech professionals in fields from fintech to 3D printing
Don't code for the sake of code:
code to create solutions.
We believe that motivation is at the core of learning, so a key aim of #RoboCampCT was to provide an environment in which learners have the time and space to think about why they might want to learn to code. 
During the camp, a range of professionals who use tech in widely varied fields joined us at UCT campus to share how they use technology and coding in their careers. From 3D printing to graphic design, medtech and fintech, there are a whole lot of opportunities out there, and those currently in the fields of the future shared stories of their careers that were both enlightening and inspiring. 
Students also learned how to use 'Design Thinking' – a methodology used to tackle complex problems – to create solutions to real-world issues. Design Thinking was positively the most successful topic of the camp, with many students considering it the most eye-opening and engaging aspect of everything they learned. We're thrilled that Design Thinking was communicated and grasped so well, as problem-solving is one of the pillars of our curriculum and coding!

For all the parents out there.
Your child will thank you for exposing them to the endless opportunities and careers that tech provides, and tech needn't be treated like just another topic to be added to a homework list. The real-world potential of tech for kids makes it an engaging aspect of everyday life, so the learning never stops.
As a parent, you don't need to be a coder yourself to help your child learn to think like a coder. The foundation of programming is being able to break down a problem into parts, give steps to solve a problem, recognise patterns, and find the principles that make these patterns. Here are some tips: 
Solve problems. Find opportunities to discuss with a child how they arrived at a solution to a problem.
Build things. When you build something you learn how everything fits together, and the foundation of being a good coder, is understanding how things work together. 
Ask questions. For a child to stay abreast of new technology, they need a curiosity about technology. Adults can model this by asking questions like, 'How does your phone send a message to my phone?' and then finding out the answer by doing some research. 
And of course, you can sign your child up to continue learning about robotics on Saturdays starting 20 July at UCT.