Coding for Schools
Bring CodeSpace's CAPS-aligned coding & robotics curriculum to your school.
Apply here for a sponsored schools coding program here for the 4th term in 2020.
grade 4-7
Intro to Coding Jnr
Learn the fundamentals of how to code with block-based coding and apply what you learn across multiple applications, including gaming, apps, robotics and 3D design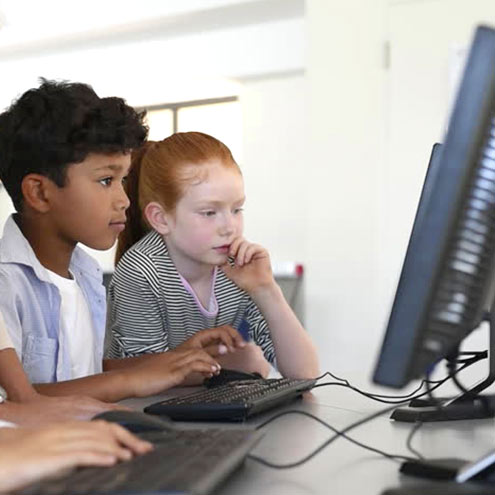 grade 4-7
Intro to Coding Jnr
grade 8-12
Intro to Coding Snr
grade 8-12
Web development
grade 8-12
Intro to Robotics
grade 8-12
Arduino Robotics 1
The CodeSpace approach.
CodeSpace's curriculum is designed to prepare learners with the skills they need to be able to bring innovative tech-based solutions to life and thrive in a career in the tech industry. We have a range of course topics to pique learners' interest in tech.
Exciting, CAPS-Aligned Curriculum
Cloud-Based Learner Management System
I code. What's your superpower?
The Fourth Industrial Revolution demands that we bridge the skills gap by specifically equipping individuals with 21st-century skills that can genuinely accelerate their careers and increase their earning potential. To quote one of our alumni, "The job I will be doing in 10 years probably doesn't exist yet, but I know I'm ready for the future because I'm part of building it.
Read.  Write.  Count.  Code.
Coding is a key literacy.
Our courses develop practical coding proficiency. We focus on computational thinking, which is the problem-solving approach that coders use.
Our courses are structured to first teach core programming fundamentals, and then develop proficiency within a particular coding language. We teach using coding languages that are future-oriented and carefully selected for their suitability to a teaching context.
All lessons incorporate digital literacy, as this is the foundation upon which coding skills can be built. Facilitators will intersperse digital literacy into the coding lessons as required by learners' existing competence.
In addition to this, our curriculum is designed by industry experts, ensuring that your learners get leading-edge tech education and an unfair advantage when they are injected into industry.
See our robotics in action!
Our learning environment.
At CodeSpace, we truly practice our belief that the learner is the centre of the classroom and our team is primed to respond to learners and be adaptive to their pace and learning style.
Content is delivered through the CodeSpace Learner Management System, our cloud-based learning platform that can be accessed across a spectrum of devices. The LMS facilitates a blended learning environment for students as well as efficient classroom management for administrative staff.